Scary and uncertain times: off brand #3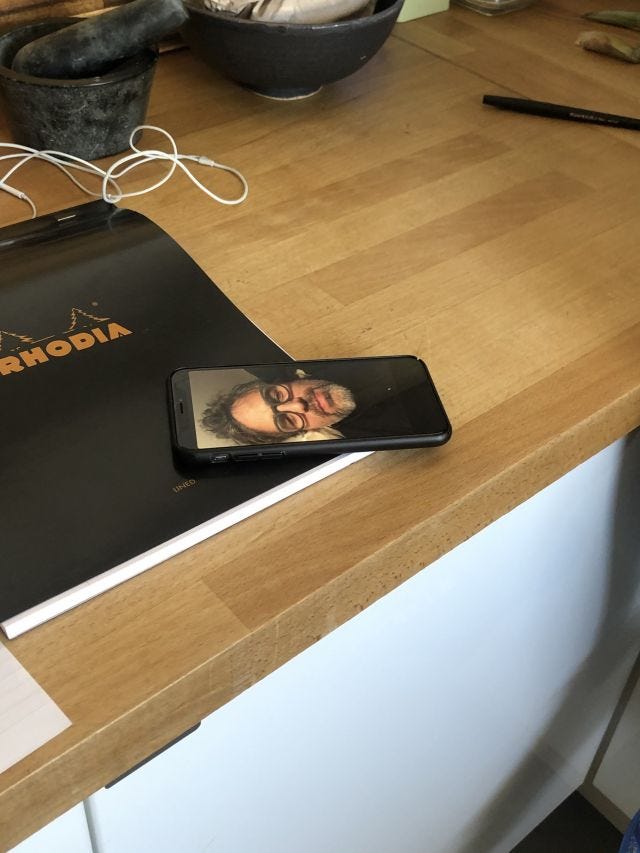 'And, you know, they look at us, and obviously, we worked hard for where we're at so it's like we can't feel bad for, you know, the things that we have' – Justin Bieber on Instagram Live, April 2020

This week the death toll keeps climbing and from the sofa I swipe through pictures of Drake's house, a 2020 Versailles of glassy marble and striplights, the interior equivalent of dollar signs flashing inside cartoon eyes. 'I wanted the structure' — newly built to look like something old, somewhere else — 'to stand firm for 100 years', he tells the magazine, and 100 years doesn't sound long enough, not to me anyway, but maybe now's not the time for the future.

On Instagram, an influencer is apologising – she's sorry she went to the Hamptons despite having tested positive (thanks to a personal doctor hook-up) for the deadly virus currently ravaging the globe, sorry she posted that picture on the mansion's porch with her Chanel boots. 'We're not bad people,' she says, wiping away a tear. Hair shiny and highlighted, #newbottega bag in hand, she has the kind of image that's everything and nothing all at once – pretty and rich enough to be aspirational, empty enough to project onto. 'She describes her personal style as "elevated basic"', Wikipedia says, and I wonder who wrote her apology, how much I'd charge someone like her to write one.

In New York, the city she left behind, people can't get tested – a zoo tiger does, though.

Between the headlines on Twitter, I watch drone footage of Alicia Keys' mansion, glass walls dropping away to nothing but the shining blue of the Pacific, and feel a claustrophobic, guilty kind of resentment. Justin Bieber's old home, palatial curving steel and glass, is being derided for its cold, music video futurism that at a decade old already feels like a relic, JLo's for looking like the house from Parasite. I guess you could say it's a coping mechanism. 'It's like being in jail. You can't leave and everyone here is gay', Ellen says of her $27m California estate, laughing alone to the camera in the empty room, apparently unaware that prisons are pandemic deathtraps waiting to happen, that some incarcerated people are not even provided with soap to wash their hands with but instead are made to purchase it. Later, her team pull the clip offline.

On the cover of US Vogue, the actress best known for playing Wonder Woman poses in the desert in a sparkling gown. Two weeks ago she gathered a cast of celebrities in a selfie sing-a-long designed to boost spirits and successful only in dropping like the dead weight of Drake's 4000lb bathtub carved from a single piece of marble into the widening gulf between us and them. 'It doesn't matter who you are, where you're from,' the actress says, smiling into her iPhone in a way that she thinks conveys solidarity. 'We're all in this together.'

In the supermarket, we buy food for neighbours almost as old as Drake hopes his house will be one day. Their son says they're too afraid to even go on their balcony. The woman behind the counter looks tired as she hands their ready meals beneath the protective wall of plastic, says today's been busy. It's constant, she says, and then there are the shoplifters – ten today at least, and for one they had to lock the store and call the police.

Muggings are up too, friends' iPhones almost wrestled from their hands on now-empty streets, and the rumour is that nurses are being robbed of their key worker badges. Two lots of face masks disappear from the post. When I call DHL, the woman thinks I'm talking about stolen beauty products. 'No,' I say, 'face masks – like... you know, the ones you would use in a pandemic?'

When the weekend comes, I stay in bed reading about the French Revolution.